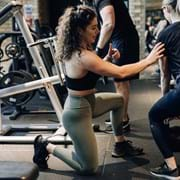 Pandora Porter
My name is Pandora.
As a personal trainer, I care about helping you reach success as much as you do.
Over the years, I have studied tested an array of different methods of how to achieve amazing results.
Transforming my clients bodies and helping them feel strong & confident inside and outside the gym.
Conditioning, strengthening, sculpting and improving your fitness are some of the benefits you can expect by working with me. I will assist you through technique education with tailored programs combined with nutritional advice and encouraging a balanced lifestyle.
Specialist Areas
Bespoke plan
Body confidence
Body fat reduction
Muscle tone and development
Pre and post natal
Strength and conditioning
Qualifications
• Level 3 Personal Trainer
• Level 3 Pre/Postnatal training & nutrition
• Weight Loss Specialist
• Senior Fitness Specialist