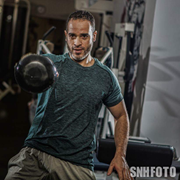 Mehdi Bensaid
I am a highly qualified fitness professional with more than 12 years experience.
Training Clients has been a passion for me . I use sports and exercise principles to optimize performance, prevent injury, for management and treatment programmes.
I work with you to provide appropriate rehabilitation and return to training or work.
I specialize in management of low back pain and corrective exercise to improve movement, posture and decreases pain.
You will receive support, motivation and encouragement as well as honest and objective feedback.
Please feel free to stop me for a chat or drop an e-mail/text and I will get back to you.
Specialist Areas
Functional specialist
Injury prevention and rehabilitation
Nutritional guidance
Postural correction
Sport specific training
Qualifications
MSc Sports Therapy
Level 4 management of low back pain
Level 3 GP Referral
Corrective Exercise Specialist
Nutritional Advisor (Precision Nutrition LVL 1)
Extreme Kettlebell Instructor
Sports First Aid
Tapping and Strapping