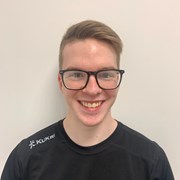 Contact
Log in to view contact details
Matthew Scanlan
They say never turn your passion into a job, but with every rule there are exceptions. I have turned my passion into my job. I am highly motivated to help people reach their fitness related goals whatever that may be and to help you feel more confident in yourself.
My fitness journey started young, for as long as I can remember I have gone to physio. I had always kept this as much of a secret as possible as I feared people would treat me different. I was about 12 when my physio did a trip to the gym, this is where it all started, she shown me different exercises I could do by myself and I was hooked. A few years later and I no longer need to go to physio thanks to the gym.
Throughout my years of training I have experienced and helped people in all categories, whether that be weight loss, muscle gain, build strength or sports specific exercises, I have also played a range of sports including running, rugby and hockey.
As my client you will receive a workout programme specifically designed to help you reach your fitness related goals, you will also receive nutrition advice, weekly check-ins and 24/7 online support to help and guide you through your fitness journey.
Specialist Areas
Body confidence
Body fat reduction
Functional specialist
Injury prevention and rehabilitation
Sport specific training
Weight loss
Qualifications
Level 2 Fitness instructing
Level 3 Personal training