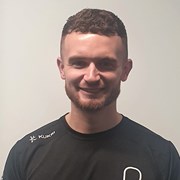 Matt Pickup
Are you spending hours in the gym but seeing little results? 
Are you turning up to the gym without a plan or constantly switching workouts?
Do you enjoy your time in the gym or does it feel like a chore?
From someone who has been there, I know how it feels.
After countless years of trial and error, learning, researching and becoming a qualified PT - I've found what works and what doesn't.
You'll see the results from my own transformation and that of my clients.
Whether you are a complete beginner or more advanced, I'll help you maximise your hour in the gym and the other 23 outside of it.
My service covers everything to get you in the best shape of your life including; personalised training plans, nutrition guidance, meal plans, recipe books, educational content, support and guidance.
I specialise in fat loss, nutrition and body transformations.
Take a look at my Instagram (@coachedbypickup) to learn more about me, my clients and the service you'll receive. 
Specialist Areas
Bespoke plan
Body confidence
Body fat reduction
Muscle tone and development
Nutritional guidance
Persistent motivation
Postural correction
Strength and conditioning
Weight loss
Qualifications
Level 3 Personal Trainer
Level 2 Fitness Instructor