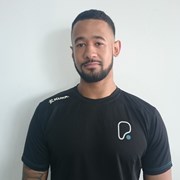 Contact
Free first session offered
Email me
Marlon Campbell
Do you aspire to be fit, healthy and confident? Then using a Personal Trainer here at PureGym can be an essential part of improving your overall lifestyle - the results are a vast enhancement to your confidence, health, and wellbeing; fitness for both body and mind.
My name is Marlon and I am testament to what dedication to regular exercise can do to improve your quality of life. My personal experience and passion has led me to become a Personal Trainer in order that others may experience the benefits of a focused, tailored exercise regime in their own lives.
I appreciate that we are all different and therefore have different goals to aspire to. I appreciate that sometimes a lack of motivation, confidence or a history of failed routines can hold us back. However, I also appreciate that often all we need is someone to listen to us and guide us in the right direction. If this is you, please do not hesitate to contact me for a free consultation and take the first step towards a fitter, healthier more confident you...
Specialist Areas
Body fat reduction
Nutritional guidance
Strength and conditioning
Weight loss
Qualifications
Active IQ Level 2 in Fitness Instructing
Active IQ Level 3 in Personal Training
Studio Cycling
Circuit Training
First Aid at Work