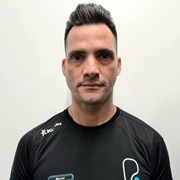 Contact
Free first session offered
Email me
Marcel Rodriguez
By reading this, you have taken the first step to achieving the body and fitness level you have always wanted.
No matter what level of fitness you are and reasons for choosing a Personal Trainer, I can help you achieve your goal through the effective use of tailor-made exercise programmes, nutritional guidance, positivity and confidence building.
I'm passionate about health and fitness and love the challenge of motivating people to work through it when it can get tough. I am on the journey with you and want to see results just as much as you do.
I pride myself on being friendly and approachable and positive, so please feel free to contact me for an informal chat and any questions answered. Or come and say "hi" on the gym floor.
Specialist Areas
Body confidence
Body fat reduction
Muscle tone and development
Nutritional guidance
Strength and conditioning
Weight loss
Qualifications
Level 2 Fitness Instructor
Level 3 Personal Trainer
Power Plate Instructor
Health and Nutrition