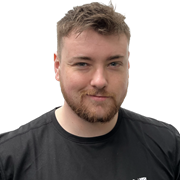 Liam Carroll
Hello! My name is Liam Carroll & I'm a PT here at PureGym Blyth!
People often think the gym is solely a place for the physical, however there are so many incredible benefits working out can have on your brain as well as your body!
Having reaped the benefits of training for over five years whilst living with a mental health illness not only do I know the difficulty of training against your own brain but I want to shout from the rooftops the difference it can make to your everyday life.
So whatever it is you want to achieve, from weight loss to strength building, from running to shredding, I can help you achieve your goals! Your brain will thank you, trust me!
Train for your brain for a lifestyle you love.
Social - Instagram - @ptliamcarroll
             Facebook - Liam Carroll PT & Fitness Coaching
Specialist Areas
Strength and conditioning
Weight loss
Qualifications
Level 2 -Fitness Instructor
Level 3 -Personal Trainer