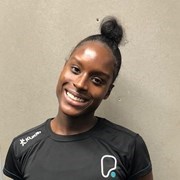 Kloe-Nicole David
Hey Champ, I am Kloe.
Fitness and sports has been embedded into my DNA since I can remember. Fitness has been a positive force within my life that has helped me to channel my thoughts, express myself and escape from the negativity of this world. I can definitely say from first-hand experience keeping fit and active has not only improved my physical wellbeing, but has helped relieve stress and keep me sane.
My mission is to help and encourage people to remain active and practise healthier habits that will change your lifestyle for the better. I want to help you lead a healthy way of life and feel confident in your abilities to accomplish your goals with my knowledge and guidance.
If you are looking for a fitness coach to guide you along your journey, feed your with knowledge and help you to make effective lifestyle changes, I am here for you.
Contact me today to arrange a telephone call to discuss how I can provide tailored support towards your fitness, lifestyle and nutritional goals.
- www.klofit.co.uk
Specialist Areas
Bespoke plan
Body confidence
Body fat reduction
Muscle tone and development
Nutritional guidance
Persistent motivation
Postural correction
Strength and conditioning
Weight loss
Boxing
Qualifications
Level 2 Fitness Instructor
Level 3 Personal Trainer