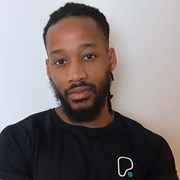 Kenny Mbongo
Over the course of 5 years I've helped hundreds of busy men and women get in the best shape of their life. Giving them the knowledge and steps to transform their body's in a sustainable way.
My approach comes from having over 10 years experience gained from my football career, boxing and martial arts. I've had the privilege of working alongside top athletes and coaches and as one myself I understand the fundamentals of exercise and nutrition.
Do you have a body goal in mind? Have you been coming to the gym for months or even years now and not seeing the results? Are you preparing for an event or would like to participate in one? Or have you just decided to change your lifestyle? Whatever your reason I am here to help make it your reality.
I believe I can provide you with all the tools to unlock your potential, boost your confidence and smash your goals.
Stop wasting time, take action and start your journey towards the best version of yourself today.
Your goals are mine!
K.M
Specialist Areas
Muscle tone and development
Nutritional guidance
Boxing
Qualifications
Certified level 2 Gym instructor
Certified Level 3 Personal trainer
Padwork for small groups
Level 3 nutrition