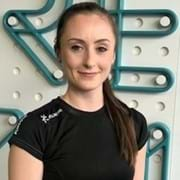 Kayleigh McIntosh
Hi!
I'm Kayleigh and I want to help you become confident in your body.
Are you looking to lose some weight? build some muscle? Tighten up your body? And boost your confidence?
Are you in need of some Guidance? Accountability? Structure? Motivation? And Consistency? 
If a "YES" came to your mind at any point while reading the above, then drop me a message or catch me on the gym floor and let's have a chat!
I have been in a similar situation, and I know what it feels like to not love your body, getting a Personal Trainer changed my life years ago… so let me now, help you change yours.
Let's get you on your way to total BODY CONFIDENCE.
Specialist Areas
Body confidence
Muscle tone and development
Weight loss
Qualifications
Certified Level 3 – Personal Trainer
Certified Level 2 – Gym Instructor
Emergency First Aid at Work