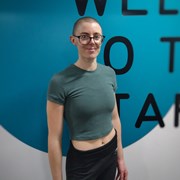 Katie Ingle
Hey, I'm Katie!
I made the decision to become a personal trainer following many years as an elite GB athlete. I believe that leading a healthy, active and balanced lifestyle positively impacts all areas of your life, and that being in control of your body and mind through exercise can help you to feel confident and empowered. My aim is to use my knowledge and experience to help others to feel the same. 
I offer individualised training plans and a supportive coaching relationship to help you to achieve your goals. The training I provide focuses around weight lifting, cardio and bodyweight exercises. I work with both women and men who are looking to become the fittest, strongest and most confident version of themselves. Whether your goal is fat loss, muscle tone, or learning new exercises, everyone is welcome. 
If you would like to find out more or book in for a consultation please get in touch!
For more information on prices or to read previous client reviews visit: kiltrfitness.co.uk.
Specialist Areas
Bespoke plan
Body confidence
Body fat reduction
Muscle tone and development
Weight loss
Qualifications
Level 2 Fitness Instructor
Level 3 Personal Trainer
TRX Trainer