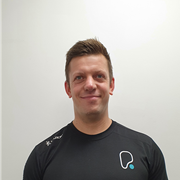 Contact
Free first session offered
Email me
Juris Vjacirs
I am qualified and highly experienced in training individuals, with experience in preparing my clients for rowing competitions such as Henley's Royal Regatta, Powerlifting competitions (IPF) non assisted, Olympic weightlifting competitions (BWLA), Crossfit competitions such as Rainhills trails. And multitude of body composition goals.
My mission is to assist you in reaching your goals in fitness, nutrition and lifestyle.
To achieve my mission, I provide a high-quality tailored approach to nutrition, strength, fitness and wellbeing. My programmes are strength and power lead, with a dose of mixed modality cardiovascular training.
I am here to support, encourage, guide and motivate you but above all to help you succeed. Let us start the journey together to healthier and happier you!
Specialist Areas
Body confidence
Body fat reduction
Functional specialist
Muscle tone and development
Nutritional guidance
Persistent motivation
Sport specific training
Strength and conditioning
Weight loss
Qualifications
Level 3 Personal Trainer
Level 1 CrossFit Instructor
Level 1 British Weightlifting