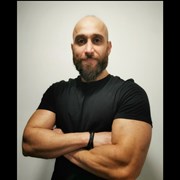 Husam Hakim
Ready to enjoy a healthy future
Let me help you be the best version of yourself 
Hi I'm Sam! 
Professional athlete 
2nd place Arnold classic competitor
For years I was leaving a very unhealthy lifestyle, until one day I decided to make a change , yes that's all what it takes, just deciding 
Slowly I started to create better habits, my meals got healthier, I started training more often and I was disciplined with my training. 
My life totally changed!! 
I'm more healthy now, more in shape, and I feel good about myself and happier than ever before. 
This gave me the confidence to even sign up to compete in the 2nd biggest international bodybuilding competition in the world, and win 2nd place! 
I'm here to facilitate that journey for you to get you where you want to be. 
From my experience, motivation and accountability are key when it comes to reaching your fitness goals, as well as being challenged and feeling supported. One-to-one personal training is the best way to achieve these results.
Whether you're looking to lose weight, work toward a particular fitness goal, or recovering from an injury and want to rebuild your strength, or simply want to improve your general wellbeing, I'll create a bespoke training programme to help you meet those objectives 
You have any further questions !??
Please do not hesitate to get in touch so we can set up a free consultation
Specialist Areas
Bespoke plan
Body confidence
Strength and conditioning