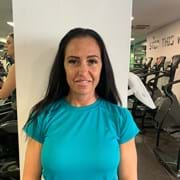 Emma Ridler
I have always enjoyed working out and eating right from a young age. .
Aerobics classes were always something I really enjoyed and continued to attend after my first child. After my second born in 2006 I decided to change things up an take up a mix of cardio and strength training, It soon became my therapy, my escape! The results spoke for themselves.
I got into it pretty quick, learned a lot along the way and ended up with friends asking for help with their exercise and eating.
I eventually took the plunge and achieved my certification. Following on with my nutrition certification. I understand we are all unique and can adapt myself to peoples needs, what works for one may not work for someone else. I will keep you motivated all the way through your journey and keep you on your toes whilst putting your health first. Not only will we change your body, but we will change your mindset too. Something I am very passionate about.
If you would like to hear more, please stop me for a chat.
Specialist Areas
Bespoke plan
Body fat reduction
Muscle tone and development
Nutritional guidance
Pre and post natal
Weight loss
Qualifications
Level 3 Fitness Instructor
Level 3 Personal Trainer
Pre and Post Natal
Mindset