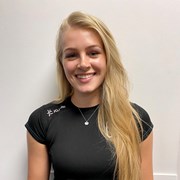 Eboni Elite
Hi, I'm Eboni : )
I'm a Level 3 qualified personal trainer, and I also have a degree in Biomedical Science, so my anatomy and physiology knowledge runs deep. I started training when I was 16 years old with the goal of being 'skinny', I wanted a thigh gap and a tiny waist and did everything but eat properly and train with intent to get there, it's safe to say I didn't make any progress.
After reading and educating myself on exercise and nutrition, I started seeing results and that's the story of how I fell in love with the gym. My goals and priorities quickly changed from skinny to strong and I realised that for me, training is just as important mentally as it is physically.
I've gone from having gym-anxiety to training with purpose and confidence. For me, training is about longevity, not a quick fix; you are never going to stick to something you don't enjoy. Setting realistic goals and consistently making small changes is how progress is made. So if you see me around, come and talk to me about your goals and I'll pave the way for you to get there.
Specialist Areas
Body confidence
Body fat reduction
Functional specialist
Muscle tone and development
Nutritional guidance
Weight loss
Qualifications
Level 2 Fitness Instructing
Level 3 Personal Training
Emergency First Aid at Work