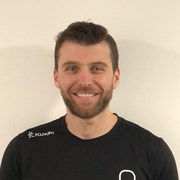 Dave Chapman
An active, healthy lifestyle makes for a happier, healthier life. What's more important than that? You only get one body. Invest in it.
It is my objective to provide nothing less than an exceptional service to support and guide you in that investment in an environment that is both inspiring and welcoming.
I offer bespoke personal training and nutritional advice to help you achieve your fitness goals. Whether that is losing body fat and toning up, gaining muscle mass or simply improving your general fitness, I want to work with you to make you feel more confident in yourself and the way you look.
I would love to hear from you so we can discuss how you can become the best version of yourself and how I can support you in achieving this! Please don't hesitate to get in touch!
Specialist Areas
Body fat reduction
Muscle tone and development
Strength and conditioning
Weight loss
Qualifications
Level 3 Personal Trainer 
Level 2 Fitness Instructor 
Emergency First Aid at Work