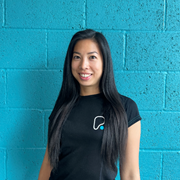 Contact
Log in to view contact details
Cilia Li
I'm a personal trainer, sports massage therapist, wellness and nutrition coach.
I used to be a girl that had no body confidence and was always afraid to lift weights. That all changed when my friend started training me in a bodybuilding gym.
The first exercise he got me doing were pull-ups! I thought he was crazy. I couldn't even hold onto the bar let alone pull myself up. In just two weeks, I started to see changes and gradually became addicted to the gym and even developed a passion for nutrition.
I became confident with my body and felt mentally and physically stronger. In 2015, I became a Personal Trainer to empower women. I want to help women build body confidence and get stronger. I want to teach them to honor and love their feminine body using a holistic approach.
If you're 100% ready to invest in yourself then hit me up today to start your glow up journey.
Specialist Areas
Body confidence
Muscle tone and development
Nutritional guidance
Weight loss
Qualifications
Level 3 Personal Trainer
Certified Health Coach
Sports Massage Therapist