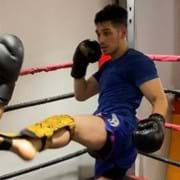 Contact
Christopher O'Connor
What does it take to reach your goal?
More knowledge? More motivation? Better planning?
If you answered yes to any of these then I'm here to help.
Don't worry about how much you know or if nerves are getting the better of you. I'm here for you.
I'm here to help you better understand your body and help bring is to its fullest potential.
With 6 years of experience in both strength and conditioning and a newly attained passion for Muay Thai I have a well-established knowledge of fitness, nutrition, and flexibility.
Whether you're looking to build more muscle or to reach those weight loss goals I have the specialist knowledge to help get you there.
The sooner you get in the touch the sooner you'll reach your fullest potential. Let's do this…
Get in touch now.
Specialist Areas
Bespoke plan
Body confidence
Body fat reduction
Injury prevention and rehabilitation
Muscle tone and development
Nutritional guidance
Persistent motivation
Postural correction
Sport specific training
Strength and conditioning
Weight loss