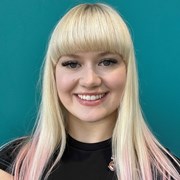 Contact
Free first session offered
Email me
Chloe Fairhurst
Hi, my name is Chloe!
From a young age, sports have been a big part of my life. I attended almost every sports club available to me, from karate to ice skating, swimming to trampolining; I always found ways to be physically active. 
When I was 19, I started taking my workouts more seriously, going to the gym five days a week doing a mix of classes and weight training. I fell in love with the endorphins which exercise gave me and the confidence I had given myself. I slowly realised that whilst I was not searching for a career, I had stumbled across one that I was so passionate about. I soon obtained my Level 3 Personal Trainer qualification.
I believe fitness has given me confidence, drive, passion, and purpose and I want to help everyone - any shape, size, age, or background - to discover that fitness is so much more than the physical changes it brings, but the mental changes too.
For me, nothing makes me happier than seeing my clients achieve their goals and knowing I helped them in the process. Anyone is capable of anything they put their mind to, but sometimes you need that extra push. I will be the stepping stone to help you along the way. I will motivate, encourage, and push you to your limits, but most of all I will be a friend - giving you the knowledge to exercise safely with or without me. 
If your aspiring to get your body healthy, I am the PT for you. I will help boost you to reach your goals because a goal without a plan is just a wish.
Specialist Areas
Body confidence
Body fat reduction
Muscle tone and development
Persistent motivation
Strength and conditioning
Weight loss
Qualifications
Level 3 Personal Trainer
Group Training
Studio Cycling
First Aid