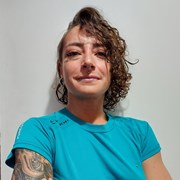 Chiara Bellia
I'm Chiara, I'm 33 and like a lot of you girls, I know really well what not feeling comfortable in your own skin, means.
We often happen to be so unhappy about things in our life but then, despite of complaining we do literally zero to change what's not working for us. We all do that, right?

Speaking of fitness and health, girls I'm here to remind you, YOU ARE IN CONTROL AND YOU DESERVE TO HAVE THE BODY YOU WANT.

Either you want to lose or gain weight, toning up, getting stronger, getting into a healthy relationship with food and exercising, as long as you are ready to put your work and energy in there, I will be there too, to guide you and push you every step of the way!

Give yourself credit, invest in yourself.

Be happy, be strong, be proud!
Specialist Areas
Body confidence
Nutritional guidance
Weight loss
Qualifications
Certified Level 3 – Personal Trainer
Certified Kettlebell Instructor
Certified in suspension training