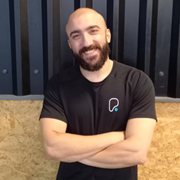 Charlie Kyriacou
My goal is to provide the best service for you to
build your confidence and reach the goals you want
to achieve. Whether it's that dream body or mental
stability, I will help you with various tools at our
disposal to make this a memorable journey for you.
For years, I have been providing clients with
programs designed for them specifically. I listen, I
observe and do not shy away from people's
problems. I help people of various ages achieve
what they want and will always have my door open
for you when you need to talk, it's not about just
being at the gym and doing as many reps as
possible.
It's about consistency and communication,
when we have those nailed down, then we're good
to go!
Specialist Areas
Body confidence
Body fat reduction
Muscle tone and development
Nutritional guidance
Postural correction
Weight loss
Qualifications
 Level 2 Fitness Instructor 
 Level 3 Personal Trainer
 Level 4 Nutritionist