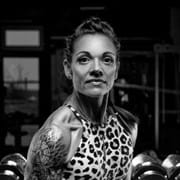 Cat Jewitt
Are you female? Then read on…
Have you ever looked in the mirror and not felt good enough? Tried every diet out there but nothing ever works? I've been there.
Lost your identity? You're no longer you, just mum, wife or daughter with huge responsibilities on your shoulders; you aren't sure how you'll ever feel like you again? I've been there. 
Ever lost a loved one to lifestyle choices? Knowing if only they'd made different choices, they'd still be here. You're determined to make better choices for your family but aren't sure where to start? I've been there. 
Is your sleep quality decreased, you're forgetting things, concentration isn't what it was, you're anxious, feeling tired, you start to question your own sanity at times? I've been there.
I'm now in the best shape of my life, mentally, physically and know that I've took control of my future health. 
I specialise in peri-post menopause, female physiology & female fat loss. I have worked with a vast array of clients from peri-post menopause, injury prevention to body composition and changed their lives.
I'm passionate about helping women be the best version of themselves, if you're ready to be the best version of you book a free consultation with me and find out how I can help you. 
Cat x
Specialist Areas
Body fat reduction
Injury prevention and rehabilitation
Muscle tone and development
Special populations
Strength and conditioning
Weight loss
Qualifications
Level 3 Personal Trainer
Level 2 Gym Instructor
Certified Peri-Post Menopause Coach
Breast Cancer Rehab Coach
MenoStrength® Training
Behavioural Change Coach
Core Training
NASM Women's Fitness Specialist
Pre & Post Natal Exercise & Nutrition