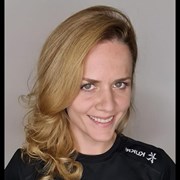 Carmen Ivanescu
Hi!
First of all, let me congratulate you for reading this, it means that you already took the first step towards success. Well done!
This is exactly what I did few years ago, after being frustrated that even though I would go to the gym, I still wouldn't see the results I wanted. So, I looked for a PT, what a game changer! No more wasting time around the gym not knowing what to do! I had company, support and I was being pushed to give my best. Checking the progress, receiving feedback and praise, all of these made me stick to my routine and reach my goals.
Over the years I also struggled changing bad habits into new healthy habits, creating a workout routine and stick to it, organise my time…it was a tough process, but I made it! And here I am, offering my support to other people that are facing the same struggles that I did!
So, enough about me, what about you?
-Do you want to make a change and don't know where to start from?
-Are you struggling to create a workout routine?
- Do you want to eat healthier but finding all kind of excuses? Too busy? Too much hassle with all the cooking?
-Do you want to become vegetarian or vegan and you need some nutrition advice?
-Are you a busy mum and find it hard to introduce a workout routine in your super busy schedule?
-Do you feel like you will never get there? You want it but it's just not something you can do?
If you answered yes to any of these questions, I know how it feels, I've been there. We can be the perfect team and make the journey enjoyable and successful. Feel free to approach me if you see me around the gym, I love to share my experience, and also it's a great way to get a closer look to what I can offer you exactly and how the process will unfold.
My motto is "You can do anything!"
Specialist Areas
Bespoke plan
Body confidence
Body fat reduction
Muscle tone and development
Nutritional guidance
Persistent motivation
Weight loss
Qualifications
Level 3 in personal training
Level 2 in fitness instructing