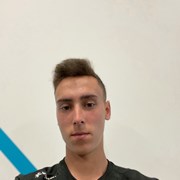 Cam Styles
I'm a young personal trainer with a passion
for changing peoples lives for the better.
When it comes to training my clients, it's
not just about reaching their goals, it's also
about educating them in the importance of
exercise and nutrition, to help sustain a
healthier lifestyle.
With sport being my passion from such a
young age. I've been able to compete at a
variety of levels . Having played football at
a semi-professional standard, competed at
county level athletics and district cricket.
This taught me a lot about how to get the
most out of the body and finding that extra
1% to improve performance.
So if you're someone who's looking to
improve strength, prepare for a sporting
event or looking for weight loss and muscle
gain, then let's get started.
Specialist Areas
Body confidence
Body fat reduction
Muscle tone and development
Nutritional guidance
Postural correction
Sport specific training
Strength and conditioning
Weight loss
Qualifications
• Gym based boxing
• Studio Cycling
• Metabolic circuits