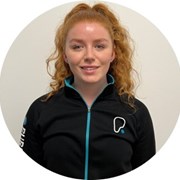 Caitlin Rimmer
As a personal trainer, my job is to make sure you feel healthier and happier and to support you throughout your fitness journey. I strive to make my clients feel comfortable and confident, with my end goal being that my clients feel confident enough to train independently, feeling self-assured in their training.
Personally, I have a fair amount of fitness experience, currently competing at a county and regional level in athletics. I enjoy seeing how my progress in the gym has improved my competitive advantage and would love to help athletes in all sports to improve theirs too! I love helping people to rekindle their passions for certain fitness related hobbies and accounting for these in their training plans.
I pride myself in the client experience I offer, with bespoke training plans, weekly or fortnightly check-ins and nutritional guidance included in all my clients' session pricing. I also offer paired sessions as well as 1-to-1s, so that clients can train with friends or family members for a more familiar training environment.
I understand how intimidating entering a gym for the first time can be and how out of place and anxious it can make us feel. I'm here to ensure that you feel more comfortable and relaxed while training, and to demonstrate the difference that following a set plan and investing in yourself can make to your overall wellbeing.
Just drop me an email or message and we can organise a free consultation! Don't be afraid to say hi if you see me around the gym!
Specialist Areas
Body confidence
Body fat reduction
Muscle tone and development
Nutritional guidance
Persistent motivation
Weight loss
Qualifications
Level 2 Fitness Instructor
Level 3 Personal Trainer