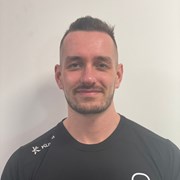 Brad Shaw
Hey I'm Brad,
I totally get why you're here. Frustrated you aren't getting the results you're trying so hard to achieve. Spending countless hours in the gym and not seeing any differences. Lost at what to do.
Not knowing what to eat too, I get it! It's hard! Restricting yourself and not enjoying what you're eating everyday!  Seeing foods as "good" & "bad". Trying FAD diets to no avail.
This is where I come in. I come in to help you overcome these barriers and get you from your hell to your heaven each step of the way without sacrificing the life you live!
If this sounds like you, don't be scared to drop me a message or speak to me if you see me wondering the gym!
Need help with food? I am happy to send you a free 15 recipe pack to show you the delicious foods you can enjoy and get results!
Specialist Areas
Body confidence
Body fat reduction
Muscle tone and development
Nutritional guidance
Persistent motivation
Weight loss
Boxing
Qualifications
Focus Award Level 2 Certificate in Gym Instructing
Focus Award Level 3 Certificate in Personal Training
Kickboxing