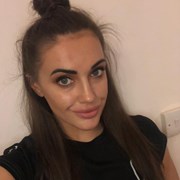 Annabelle Shepherd
Coming from a background of sports massage, I decided to get my personal training qualification to improve my own training. I love reading and learning new things and I had friends that wanted to train, so I started to help them out. I soon realised how much I enjoyed helping others and sharing my knowledge so I decided to become a Personal Trainer alongside being a Sports Massage Therapist.
I used to try every sport possible at school and started properly training in the gym at 16. Part of why I started was because I always always a bit of a 'chunk' at school and wanted to keep the excess weight off. At 18 I hired a personal trainer who showed me how important weight training really was which lead me to try different things like Tough Mudders, triathlons and CrossFit. I love my weight training and think it is the key for staying fit and in shape. I also thoroughly enjoy CrissFit style training, HIIT and spinning. Trying new things allows me to see what it feels like to train in that way and how it can benefit people in different ways.
Doing Sports Massage, I've seen a lot of different injuries and treated a lot of different people with injuries caused by training. Missing certain body parts during training and neglecting the little muscles can cause imbalances throughout the body. I love to help people understand their bodies and how they can keep it in the best possible condition it can be. It's not a short term thing, it should be a long term investment.
I am not a personal trainer that will tell you off fir enjoying your life and slipping up on your diet. I believe it's about balance and that life is to be enjoyed. I will help you find what works for you and what will fit into your routine. I will show you how exercise can help you physically as well as mentally and how it doesn't have to consume your life.
I want you to enjoy the process and keep it as fun as possible!
Specialist Areas
Body confidence
Body fat reduction
Injury prevention and rehabilitation
Muscle tone and development
Strength and conditioning
Qualifications
Level 2 Gym Instructor
Level 3 Personal Trainer
Level 3 Sports Massage
Pre and Post Natal (pending)