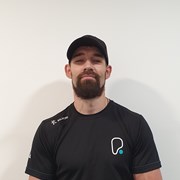 Contact
Free first session offered
Email me
Andrew Burns
HI,
My name is Andrew Burns, i am a experienced & skilful personal trainer that specialises in body transformations, sports specifics strength conditioning and mixed martial arts.
I have been in the fitness industry for last 20 years, personal training clients clients for over 14 years. My training background experience involves X Irish & Scottish high jump athlete junior gold medalist, x semi pro footballer, x physique competitor. I am currently training in mixed martial arts for the last 8 years, boxing, Muay Thai & 5 years in no-gi BJJ. MMA is my passion and I look forward to improving on my skills.
I take pride when training my clients to getting them the results they want. In the process of getting results, it requires commitment, dedication and hard work towards your training and nutrition.
I believe your fitness should be part of daily life style. So If you only give your fitness part time training & nutrition then expect poor results. But if fitness & nutrition is in your daily lifestyle then you will reap what you sow.
Specialist Areas
Bespoke plan
Body confidence
Body fat reduction
Muscle tone and development
Nutritional guidance
Persistent motivation
Sport specific training
Strength and conditioning
Weight loss
Boxing
Qualifications
ActiveIQ Level 2 and Level 3
Boxing exercise for boxing professionals.
UK strength and conditioning association.