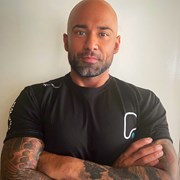 Amir Bakhtiari
Having started my fitness journey 16 years ago as a morbidly obese teen in extremely poor health and very low body confidence, I have dramatically transformed my life for the better.
 I now have been helping people from all sorts of life do the same, I believe and have learnt that achieving true happiness from changing our body image starts with the mind.
My training approach is based on science and expertise coupled with deep rooted psychology. My focus is to make your journey a pleasurable one and not a treacherous one.
Specialist Areas
Muscle tone and development
Nutritional guidance
Strength and conditioning
Qualifications
Level 2 & 3 Fitness Professional 
Poliquin Biosignature Nutrition Specialist 
Strength and Conditioning coach