Mapped: The Most Famous Female Athletes Worldwide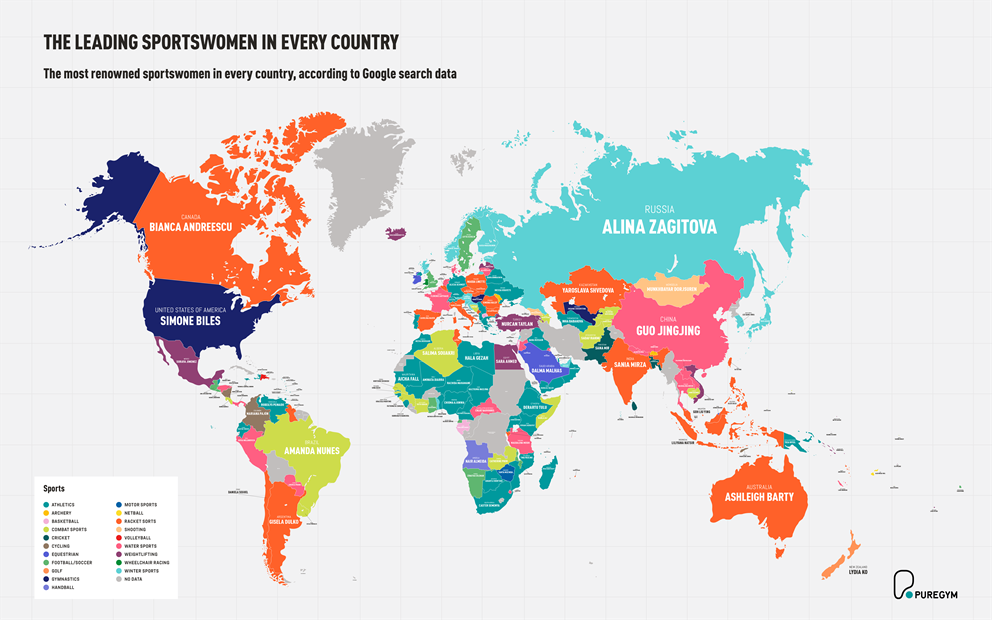 This year's Tokyo Olympics has showcased the best sporting talent from around the world. With over 11,000 athletes taking part in the Olympics, 4,000 in the Paralympics and millions of viewers tuning in worldwide, the games are the perfect celebration of all things sport.
Tokyo 2020 was also the first 'gender-balanced' game in history. With almost 49 per cent of the athletes participating being women and with equal visibility between women's and men's events. A significant milestone in the game's history, we wanted to take the opportunity to celebrate some of the leading women in the world of sport, looking at those that are currently active within their area, and sporting legends that have now retired.
To do so, we've taken a look at global search data to discover the most famous female athletes around the world. By analysing annual search volumes for each country's most renowned sports stars, we've revealed the women who are leading the way for their country. Here's what we found...
Who is the most famous female athlete worldwide?
The most searched for female athlete was found to be American ex-UFC and WWE superstar Ronda Rousey with nearly 12 million global searches annually. Originally trained in judo before pursuing a career in mixed martial arts, Rousey currently holds the record for the most UFC title defences by a woman, losing only twice in the entirety of her professional MMA career. Since, Rousey made the switch to the 'sports entertainment' world of pro-wrestling, which still demands elite athleticism and high levels of strength.  
| | | |
| --- | --- | --- |
| Ranking | Athlete | Annual global searches |
| 1 | Ronda Rousey | 11,866,000 |
| 2 | Simone Biles | 8,429,000 |
| 3 | Paige Vanzant | 7,779,000 |
| 4 | Alex Morgan | 6,846,000 |
| 5 | Becky Lynch | 6,446,000 |
| 6 | Simona Halep | 6,139,000 |
| 7 | Venus Williams | 5,926,000 |
| 8 | Jessica Walter | 4,925,000 |
| 9 | Amanda Nunes | 4,919,000 |
| 10 | Alica Schmidt | 4,819,000 |
Following Rousey is fellow American and the most decorated US gymnast of all time, Simon Biles. With a combined total of 32 Olympic and World Championship medals, Biles is widely regarded as one of the best gymnasts in history. Recently, Biles courageously dropped out of the 2020 Tokyo Olympics all-round gymnastics final, citing her mental health as the reason, however later returned to take bronze in the balance beam final showing true testament to her character. For information on how working out can help with mental wellbeing, please visit our dedicated mental health page.
The most renowned athletes in the UK
Looking a little closer to home and focussing on the UK, the most popular athlete in the UK was found to be Londoner and ex-Arsenal footballer, Alex Scott MBE. Following a glistening footballing career which saw her make 140 appearances for her national team, Alex went on to take up a career in television. With regular spots on Sky Sports and BBC Sports and having taken over as the host of Football Focus, she has fast become one the UK's top football pundits.
| | | |
| --- | --- | --- |
| Ranking | Athlete | Annual global searches |
| 1 | Alex Scott | 1,585,000 |
| 2 | Nicola Adams | 595,400 |
| 3 | Sue Barker | 385,600 |
| 4 | Victoria Pendleton | 381,700 |
| 5 | Dina Asher-Smith | 278,300 |
| 6 | Kelly Holmes | 247,400 |
| 7 | Lucy Bronze | 222,400 |
| 8 | Denise Lewis | 169,000 |
| 9 | Fatima Whitbread | 156,200 |
| 10 | Katarina Johnson-Thompson | 119,200 |
Former professional boxer, Nicola Adams was the second most searched for athlete in the UK. An inspiration for all, Nicola became the first female boxer to become an Olympic champion after winning gold at London 2012, and the first double Olympic champion, following winning gold at Rio 2016. Also featuring in the UK's most renowned athletes is PureGym ambassador and sprinter, Dina Asher-Smith. As the fastest British woman in recorded history, the first Brit to win three medals at a World Championships and an all-round superstar, it's no wonder Dina is an inspiration for so many.
Looking on a country-wide level, while Alex Scott of course claims top spot in England, it's Eve Muirhead MBE, the renowned curler, revealed as the most searched-for sportswoman in Scotland. Meanwhile, 16-time Paralympic medallist Tanni Grey-Thompson tops the list in Wales. Now known as Baroness Grey-Thompson, she's a prominent member of the House of Lords. Finally, Lady Mary Peters, best known as a multiple gold medal winning competitor in the pentathlon and shot put ranked first in Northern Ireland.
The most renowned athletes in Europe
Looking further afield into wider Europe, interestingly, in Spain, it was Badminton player Carolina Marín who took the top spot. Considered as one of the greatest female badminton players of all time, she holds the distinction of having won a medal in almost every BWF tournament, along with consecutive golds at the World Championships, and the European Championships. Having also won gold at the last Olympics, a torn ACL prevented Carolina from competing in this years' competition.
The most searched for athletes in North & Central America
Despite Ronda Rousey being the number one most searched for athlete worldwide, it's actually Simone Biles who takes the top spot for her nation. Joining Simone amongst the most searched for athletes in the continent is Canadian tennis player, Bianca Andreescu. Andreescu is the highest-ranked Canadian in the history of the Women's Tennis Association (WTA) and famously beat Serena Williams in both the US Open and Canadian Open in 2019 to win both titles. She is also the first ever Canadian tennis player to win a Grand Slam singles title and the first to win the Canadian Open in 50 years, making her a hero in her nation.
In the Dominican Republic it's a volleyball player who takes the top spot. Brenda Castillo, was a member of the Dominican Republic national team that won fifth place in the 2012 Summer Olympics, a competition which also saw her crowned as the tournament's Best Libero.

South America's most famous athletes
In South America, athletics, racket sports and water sports athletes took most of the top spots for their countries. Nicolette Fernandes of Guyana was one of only a few squash players which were crowned as their country's most searched for athlete. Loved by many in Guyana, Fernandes was also named the Guyanese Sportswoman of the year in 2009 and her fame in her home country continues to today.
Featuring in the overall worldwide top 10 and taking the crown as the most famous sportswoman in her country, is Brazilian mixed-martial artist Amanda Nunes. Reigning champion in both the Bantamweight and Featherweight divisions, she has a very strong argument for being the pound-for-pound best fighter the UFC has ever seen!

The leading sportswomen in Asia
When it comes to the most famous sportswomen in Asia, racket sports once again dominated most of the top positions. It was India's top ranked Women's Tennis Player, Sania Mirza who was crowned the most searched for athlete in her country. And in Kazakhstan, fellow tennis player Yaroslava Shvedova took the top spot!
In Japan, the most renowned athlete was found to be Mao Asada. A former figure skater, Asada is famed for being the first woman to successfully land eight triple jumps in the free skate, a feat she achieved at the 2010 Winter Olympics.
Multiple Olympic gold winning diver, Guo JingJing was crowned as China's most searched for athlete. JingJing and her diving partner, Wu Minxia have both won six Olympic medals each, a record in the female diving competition. She also famously won the 3m springboard event at five consecutive World Championships from 2003 to 2009, before announcing her retirement in 2011.

Oceania's leading ladies
New Zealand was the only country who's most searched for athlete was a golfer. As a former No. 1 ranked professional golfer, Lydia Ko achieved the top ranking at just 17 years of age, making her the youngest player of either gender to be ranked No. 1 in professional golf. In 2016, Ko was named Young New Zealander of the Year and in the 2019, she was appointed a Member of the New Zealand Order of Merit for services to golf.
Elsewhere in the continent, swimmer Lara Grangeon was named as New Caledonia's most renowned female athlete. Fascinatingly, due to the New Caledonia's status as an overseas territory of France, Grangeon competes for New Caledonia in regional competitions and for France in continental and global competitions.

The most searched for female athletes in Africa
As a continent famed for its athletic prowess, it's no surprise that most of the leading sportswomen in Africa compete in athletics. Despite not competing at this year's Olympic Games, long distance runner Vivian Cheruiyot was crowned Kenya's most searched for athlete. Her last Olympic performance in 2016 saw her set an Olympic Record for the 5000m and a national record for the 10,000m races. A true inspiration not only to her nation, but to the entire world of running.
In a continent dominated by athletics, it's also interesting to see Gabonese basketball player Geraldine Robert take the top sport for her country, in addition to cross-country skier Mathilde-Amivi Petitjean who competes for Togo.

If you're feeling inspired by the world's leading ladies in sport. Why not check out some of our workouts for beginners or join one of our gyms?
Methodology:
To find the most popular sportswomen from every country, we created a list of names of the most decorated (awards/medals/championships won) sports stars in the world. This list was then analysed via Google Keyword Planner to establish the average yearly search volume for each sportswoman. Those with the highest amount of average yearly searches (either within their nation or worldwide) were ranked top. Countries that saw search volumes that are too minimal to analyse are highlighted on the map graphics as having 'no data'. All data correct as of August 2021.