2018 Member Highlights: what a year!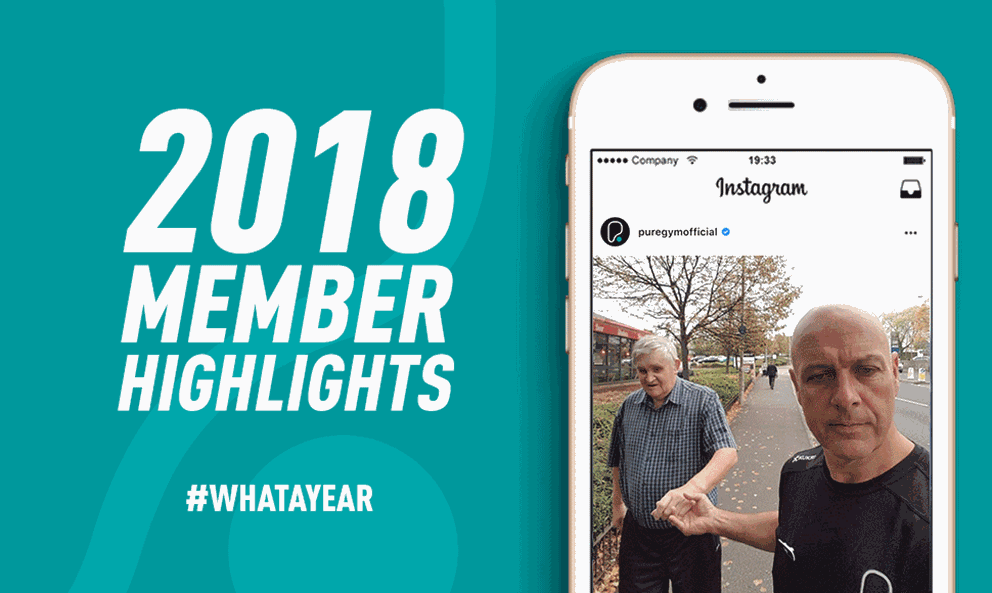 WHAT A YEAR
It's been an incredible year with so many of you sharing your stories and journeys! All of you have done a smashing job working towards your health and fitness goals, we already can't wait to see what you get up to in 2019.
With 2018 coming to an end, let's look back and celebrate some of the amazing things you've achieved.
Here are some highlights from this year...
One amazing story you couldn't miss this year was Ann-Marie's determination to walk down the aisle on her wedding day next year. Suffering from cerebral palsy and having been wheelchair bound since she was 14, she wasn't  sure if the gym could help, but with the help of her personal trainer Maggs, she is well on her way of reaching her goal. The most commented and liked post on all our social channels, it's clear to see her story meant as much to you as it did to us. 
"Annie-Marie has made such amazing progress over 2018 and we will continue to push for her goal in 2019. She is such an inspiration to me and a pleasure to have as a client. I'm so glad I decided to post her story as all the comments we got from this post meant so much to her". - Ann-Marie's Personal Trainer PureGym Derry, Maggs Campbell.

Tony and Alan's story is another story that shows the special relationships our PureGym PT's have with their clients. When Alan joined PureGym he could not walk without a walker and with it, couldn't walk far. With the help and support from personal trainer Tony, Alan has made made great progress and is an inspiration to us all. Well done Alan! We love the different reasons people go to the gym, and their story just shows that:
Fitness is not just limited to losing weight or building muscle, there are so many other reasons each of you all embrace to live a happier and healthier life.

We spoke to Tony to see how Alan is getting on. "Alan is doing great. He's had a few complications with his health recently, so he's having a break from the gym and lots of rest, but he is such an incredible inspiration to me and it was amazing to see that our members felt the same way about this very special guy!".
Lisa's gone through an incredible fitness transformation, both physically and mentally. She initially started going to the gym to lose weight by doing cardio thinking she would get her dream body this way. Although she lost 63 pounds, she ended up not loving the way she looked. In fact, she was petrified. She was undereating and overtraining her body, which left her feeling lethargic and with little energy. Weight loss was not her route to improving her self-esteem and self-love.  She knew she was falling down the route towards unhealthy habits so she set out to become strong and started weight training. Since she started weight training, she's gained 18 pounds to get her to a healthy weight, is enjoying exercising, and much happier.
Being happy and confident is the best feeling in the world. Getting healthy and strong created that for me.
Her journey has not been linear which just goes to show that although there may be roadblocks on the way, if you persevere, you can get to where you want to be. Way to go Lisa!

It's not always about embracing the end goal once we achieve it, but about embracing every step along the journey.
Kieran who shared with us the start of his journey has really embraced this motto, and we loved seeing so many support him on his journey.

Obviously, the list wouldn't be a top year without a PureGym celeb spot! We have had so many amazing faces hit our gyms this year but the most popular post was our PureGym Insider @joshpuregym and Jason Derulo visiting while on tour in Leeds. Not only did he stop for a quick selfie, he left some amazing feedback for the team and gave them some free tickets to the show. Thank you Jason Derulo!

Last on the most engaged post's list is PureGym Ambassador @nuttyfoodiefitness, showing us how having fun at the gym and making friends is the best way to enjoy your workouts! Nutty has created some nutrition videos with us which will be out in January, so keep your eyes peeled for her tips on what to eat if you're training for a running event, healthy food swaps and her challenging the PureGym Insiders to create some quick and healthy recipes!

Thanks for sharing your journeys with us and inspiring other PureGym members! You guys have done some incredible things and we'd love to keep updated and support your journeys. So that we can, don't forget to tag us on Instagram and follow these steps below. Keep on smashing your goals in the gym! 
Share your journey with us
With over 1 million members, there are a million reasons why we go to the gym. Whether you're new to fitness and just about to start your journey or you've been training for years, we want to hear your stories!
If you want to share your story or get reposted on @puregymofficial please follow these steps so we don't miss it!
Images and videos must be shot in PureGyms. Make sure you have verbal permission to film anyone around you if you catch them in the background of your videos.
We can only repost single videos on Instagram (so no video carousels)
Tag @puregymofficial  in your video so we can see your posts
Caption is key! Make sure your caption is positive, inspiring or educational so we can repost your amazing content directly.
Follow gym rules! Tops and shoes must be worn at all times on the gym floor. Please ensure if you are taking photos in the changing room that no one is changing and privacy is kept. 
We're looking to sponsor ambassadors for 2019, so if you're keen on becoming one, keep in the mind the below when posting to stand out.